Projects: Bowman Urban Educational Complex - Barbara Ingram School for the Arts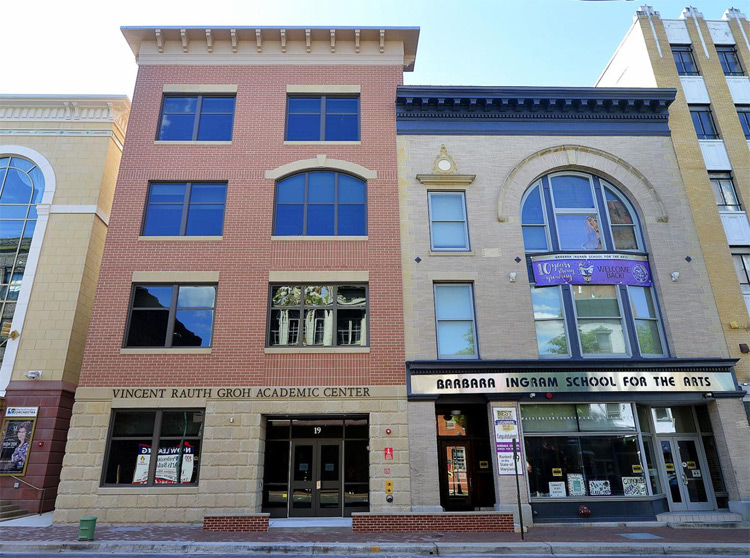 Bowman Development Corp - Urban Educational Complex - Barbara Ingram School for the Arts
Callas Contractors, LLC is excited to have recently completed the Bowman Development Corp Urban Educational Complex, better know as the Barbara Ingram School for the Arts, in Hagerstown, Maryland.
On October 7, 2021 Callas won first place for this project in the GC Institutional $10 - $25 million category of the Cumberland Valley Chapter of Associated Builders and Contractor's Excellence in Construction Awards Ceremony held at the Fountain Head Country Club.
Bowman Development Corporation of Williamsport, Maryland served as the Owner/Developer of the project which included complete demolition of the existing structure and construction of a new 6-story, 54,000 square foot classroom building. The project was designed and constructed to a USGBC LEED New Construction for Schools v4 Silver Rating. Before any work could begin, hazardous materials in the existing building had to be abated. The demolition portion thereafter was very delicate due to the deterioration of the upper floors. This process required removal by hand, piece by piece. Once the removal was completed to the basement level, machines were able to be used for the balance of the demolition. The new basement was lower than the existing requiring underpinning of the adjacent BISFA structure to the north as well as sheeting and shoring of South Potomac Street to the east and the alley adjacent to The Maryland Theatre to the south. Site logistics were compounded by improvements to The Maryland Theatre running concurrently by a separate contractor.
The concrete footings and concrete foundation walls to the first floor were completed for the structural steel structure to be erected. The elevated floors are a poured concrete composite deck fully fireproofed. The exterior skin was mostly structural studs and metal panels with a curtainwall feature at the rear of the building. The front is traditional masonry of features historic to facades in downtown Hagerstown.
The existing elevator was modified for the taller addition, different floor elevations and a rear door serving the floors to the addition. A bridge was provided from the third floor to The Maryland Theatre for easy access to rehearse and perform.
In the end the new building provides (24) classrooms, two (2) large science classrooms, a full-service kitchen, dining room, four (4) offices, a wood shop and much needed storage.